ONYX BOOX Nova Pro
Resolution Ratio: 300ppi
Bluetooth: Yes
Backlight: Yes
WIFI: Yes
Memory Capacity: 32GB
Screen Type: E-ink electronic ink screen
Display Size: 8″
Supports Recording Function: No
Screen Material: E-Ink
Operating System: Android
Dimensions (WxHxD): 196.3*137*7.7mm
Weight: 260g
Battery capacity: 2800mAh Li-Polymer battery
Touch: Capacitive touch+Wacom stylus
CPU: Cortex-A17 1.6GHz Quad-core
RAM: 2GB LPDDR3 memory
Front Light: CTM (Warm and Cold)
System: Android 6.0
Resolution: 1872×1404(300 dpi)
Certification: CCC,ROHS,CE,FCC
The First Versatile eReader That Contains Dual-Touch and Front Light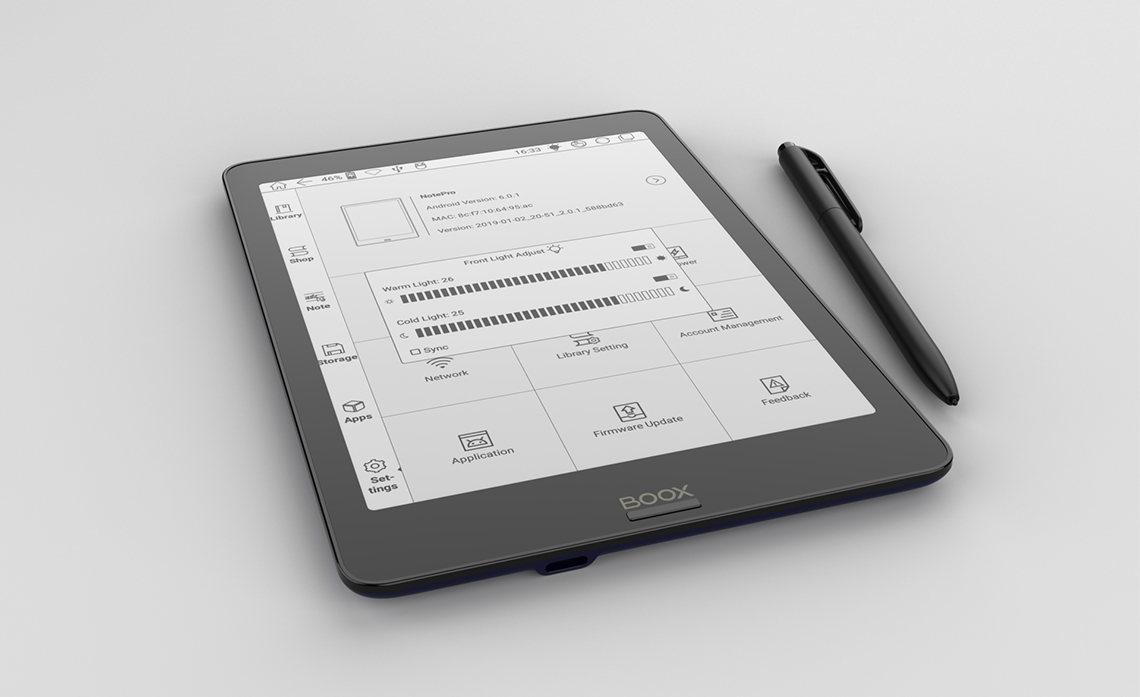 Electromagnetic touch and capacitive touch allow writing with a stylus and operating with fingers on the portable eReader.
Front Light with Adjustable Color Temperature System Make You Enjoy Reading in The Day and Night.
High Quality 7.8" E-ink Screen Enable The Content Be Clearer and Smoother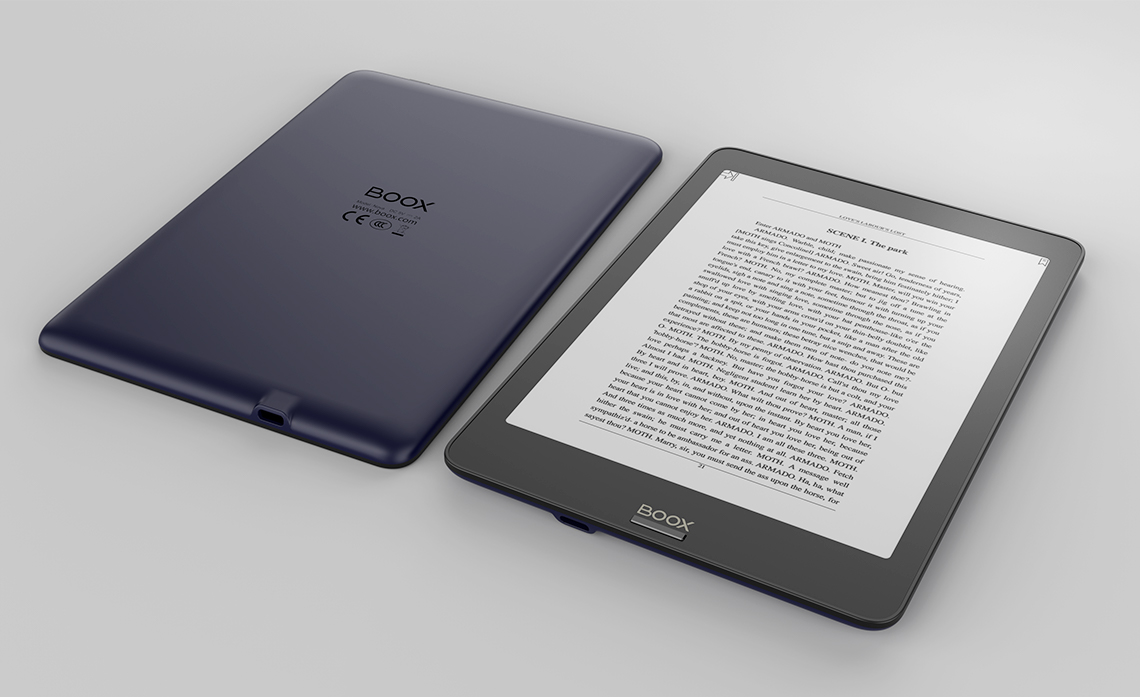 High-Resolution 7.8″ E Ink Display
7.8″ display fits more text than general size eReaders, and it is more portable compared to other large-screen models. 300 pixels per inch, the highest resolution of all E Ink screens, provides sharper and darker text.
Glare-free Even Directly in the Sunlight
Unlike smartphones and other tablets with reflective LCD screens, the Nova Pro screens are readable directly in the sunlight like on real paper.
Easy on Your Eyes
Unlike the LCD screens emitting blue lights to your eyes, the Nova Pro screen reflects ambient light from the environment to your eyes. You can comfortably read for longer hours without eyestrain.
New Regal Refresh Technology
New E Ink regal refresh technology leaves no shadow and ghosting lines after page turns and provides you a clearer reading view.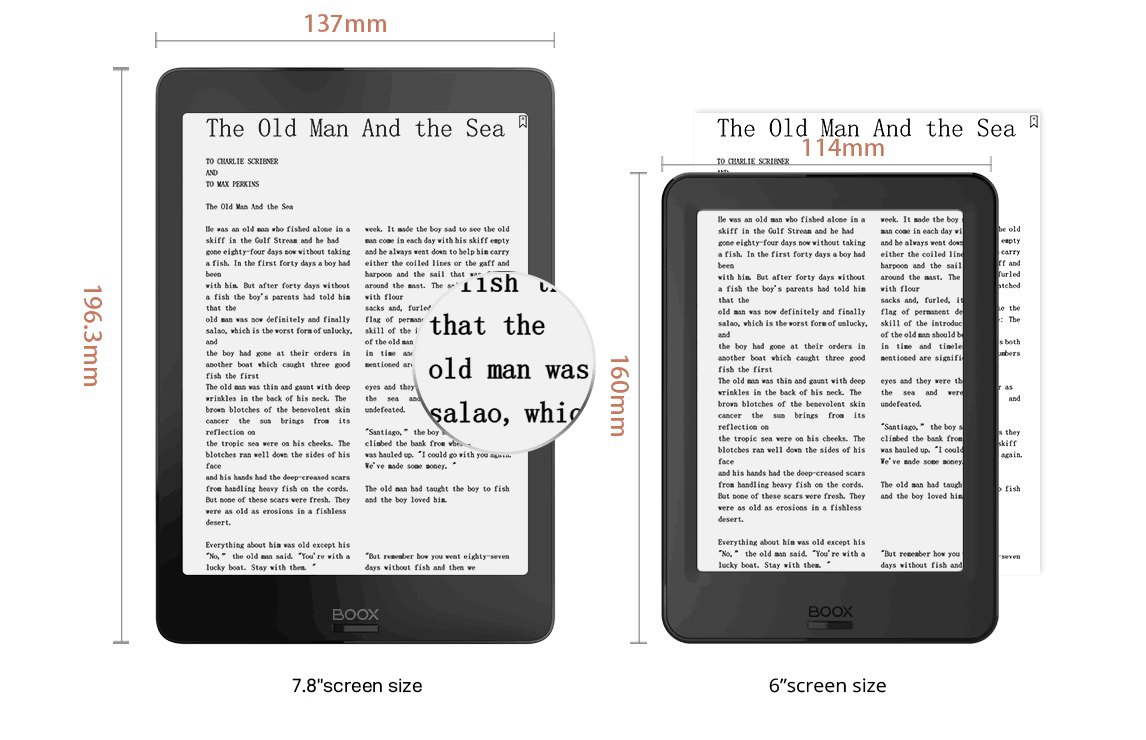 Professional eBook Reader with Exceptional Reading Experience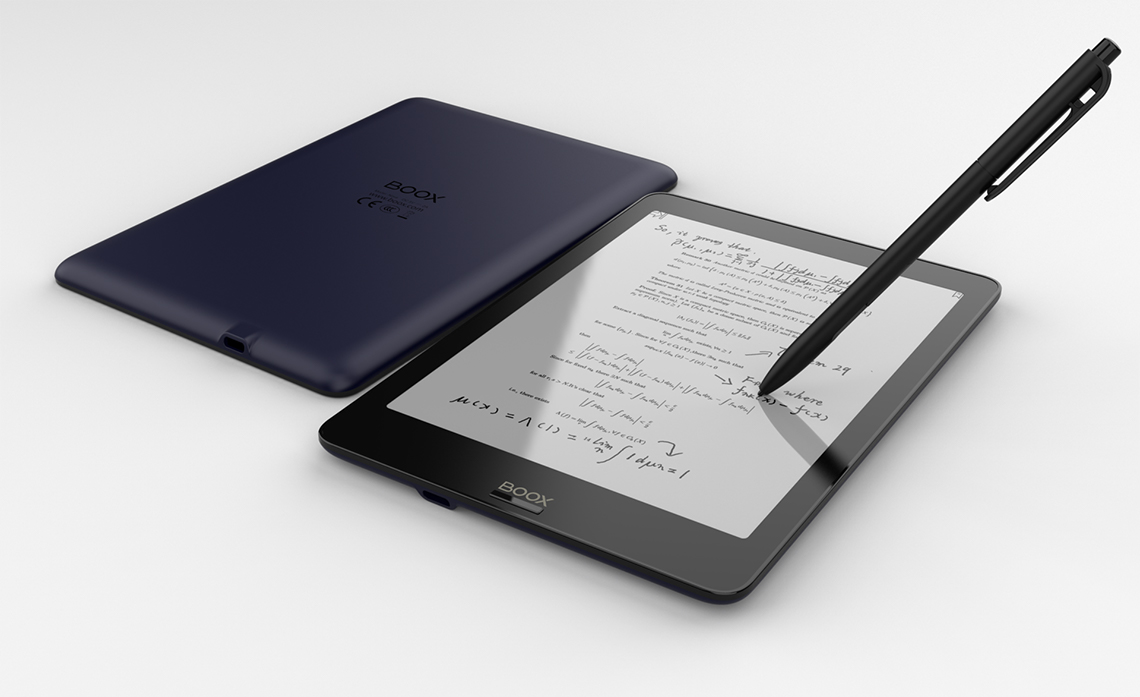 Larger Screen and Less Flipping
Nova Pro screen displays more text than the regular 6-inch eReaders do. For books with same-size fonts, users can be more concentrated due to fewer page turns.
Support over 20 Formats
Supported formats: PDF, ePub, MOBI, Doc, Docx, Docm, TXT, DjVu, FB2, HTML, CHM, AZW, AZW3,FBZ, ODT,PRC, RTF, SXW, TRC , JPG, PNG, BMP, TIFF, CBR, CBZ, WAV, MP3.
Highlight, Annotate and Lookup Dictionary
You can highlight and annotate the sentences that are important to you. You can also bookmark the whole pages and lookup dictionaries when you come across new words.
Take Handwritten Notes Directly on Top of PDF Books
With both capacitive touch and Wacom stylus touch, Nova Pro allows users not only to take notes, sketch, and draw, but also to make handwritten notes directly on top of PDF books.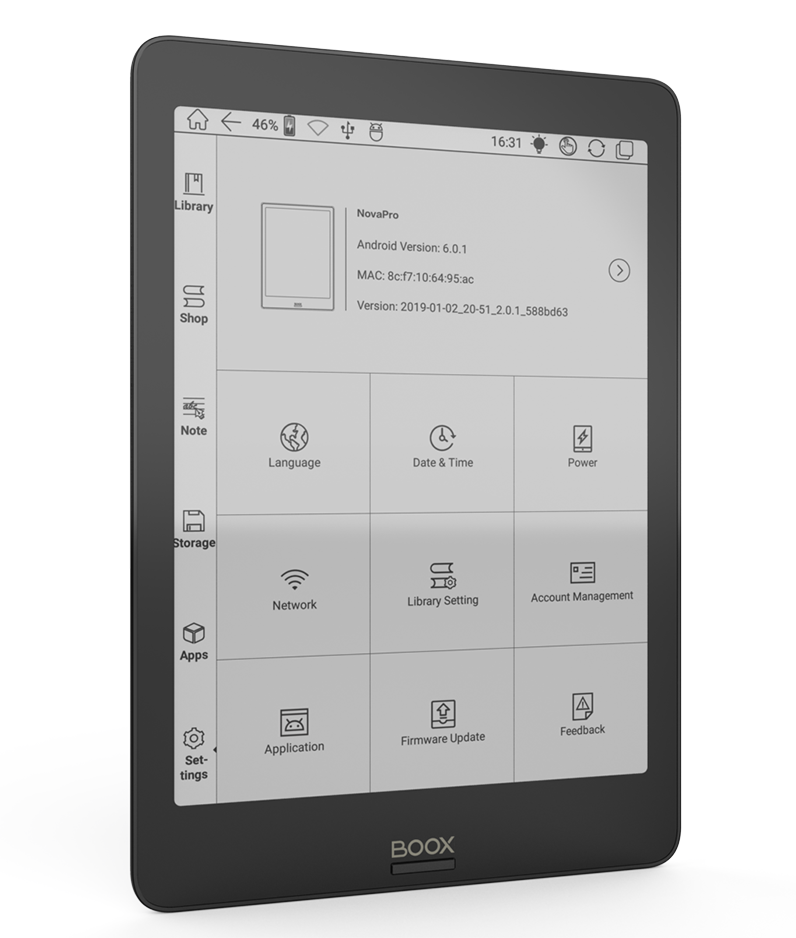 Brand New User Interface, Simpler and More Intuitive
After 10 years, we finally introduce a new user interface design. The new layout of the new user interface is more interactive and easier to use.
Industry-leading hardware specification unleashes more powers on Nova Pro

We aim to be the best. We always strive to keep abreast of the tablet hardware upgrade pace. Our leading hardware solution in the eBook Reader industry greatly shortens the device response time even when you operate it like a normal tablet. No more waiting, enjoy your Nova Pro at ease.
Wireless connections – unlimited possibilities

No More Audio Jack? No Worry, Wireless Connection Allows You to Collect Nova Pro with External Speaker
Connect your Nova Pro with Bluetooth speaker, then enjoy music and audiobooks whenever you want. Feel tired of reading books? Our text-to-speech feature reads the book out loud for you from where you left.
Download Third-party Apps for Your Nova Pro from Our EInk App store
To provide better user experience to the third-party Apps on BOOX, we introduced BOOX EInk App Store from firmware V1.9.1. The Apps downloaded from the store would be more compatible with slower-refresh E-Ink screens.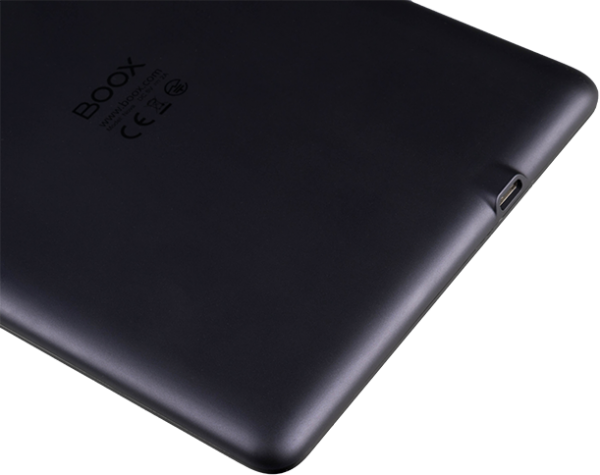 USB Type-C, Faster and More Powerful, Supports Media Transfer Protocol (MTP)
Up to the trend, Nova Pro is equipped with the new generation of USB Type-C. No more fumbling! Users can plug the connector in either way.
By MTP support, you still can use your Nova Pro while transferring data between your Nova Pro and your computer.
Product detail showcase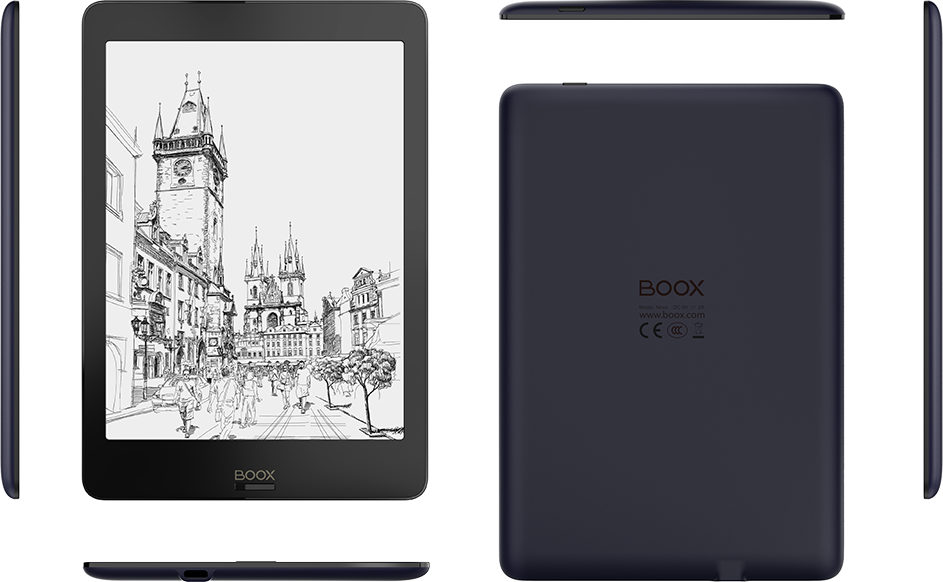 ---
Specification:
ONYX BOOX Nova Pro
| | |
| --- | --- |
| Bundle | e-Book Reader+Case Sets, Only e-Book Reader |
| color | Black |
| Supported formats | Docm, AZW, AZW3, FBZ, ODT, PRC, SXW, TRC, TIFF, CBR, CBZ |
| Bluetooth | Yes |
| Memory Capacity | 32GB |
| Battery life | Up to 4 weeks (standby mode) |
| Screen | 7.8' HD Eink Carta Flat Screen |
| Screen Material | E-Ink |
| Battery capacity | 2800mAh Li-Polymer battery |
| CPU | Cortex-A17 1.6GHz Quad-core |
| Touch | Capacitive touch+Wacom stylus |
| System | Android 6.0 |
| Product Interface | Type-C |
| Display Size | 8' |
| Backlight | Yes |
| Operating System | Android |
| Front Light | CTM (Warm and Cold) |
| Dimensions (WxHxD) | 196.3*137*7.7mm |
| Weight | 260g |
| Certification | CCC, ROHS, CE, FCC |
| Resolution Ratio | 300ppi |
| Gray scale | 16 gray scale |
| Screen Type | E-ink electronic ink screen |
| WIFI | Yes |
| RAM | 2GB LPDDR3 memory |
| Resolution | 1872×1404(300 dpi) |
User Reviews
Only logged in customers who have purchased this product may leave a review.